---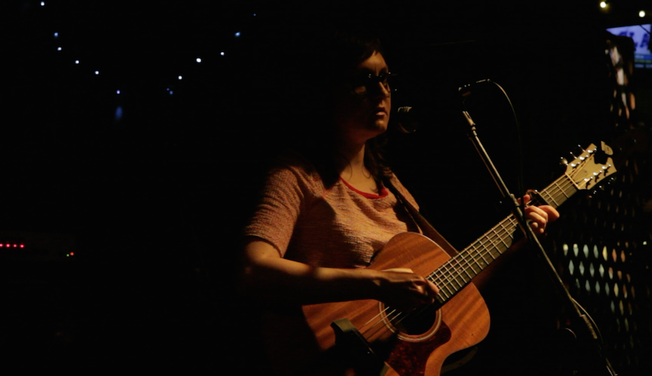 Photo by Jon Kiefer - Starry Plough, Berkeley, CA
(07 August 2017) Come out for a solo acoustic/electric piano show at Kaleidoscope Coffee, Richmond, CA on Saturday, August 12th, 8pm.
(16 April 2017) Watch me play an acoustic set at SF Porchfest 2017 in the Mission. Register on the Eventbrite page.
(07 January 2017) Separate Grooves made the 2017 New Year Ninety list on Emerging Indie Bands; great to be included!
(11 November 2016) Couple of nice reviews of Separate Grooves this week up on The Sirens Sound and Impose Magazine. Meredith Schneider (Impose) writes:  "While Glennon's voice has a largely punk rock vibe to it, with her honest a thoughtful lyrics, this album includes something on it for everyone." 
(27 October 2016) Nice review of Separate Grooves on Emerging Indie Bands featuring Working for You and a nod to song 5 off the album:  Tenement Cove.
(08 October 2016) Got the masters back and the songs sound great. Separate Grooves release date is November 2nd. Can't wait 'til you hear the songs!
(30 June 2016) New album still in production, it's sounding good, though, I promise. Stay tuned...
(06 November 2015) Watch me in Jonathan Kiefer's Woodshedders movie with some other local musicians, including Dean Haakenson of Be Brave Bold Robot on Festigious's online Film Fest until 11/7.
(11 November 2014) Working on a movie with director Jon Kiefer called Woodshedders, due out in 2015. Look for live music performances of songs from Hard Learned Truths and new songs by me and some other west coast performers (I also do some acting, too). New album also due in 2015(!).
(22 February 2014) Tune in and watch Revolution on NBC Wednesday, March 5th, 8pm. My song 'Hard Learned Truths' should be playing in the background during the flashback scene.
(07 September 2012) Feels dark and cool to be on Ultimate Goth Guide today. Great blog!
(06 September 2012) Stuck in Sheboygan was featured on songsupper on 8/29. Nice review of Hard Learned Truths:
"The album is a great blend of catchy tunes and great lyrics, and she captures the essence of Sheboygan - by what it doesn't have - extremely well."
Check out Chad's blog for more music reviews - great to read about bands I haven't heard yet!
(09 August 2012) Hey I heard Holding Me Back on The Independent FM radio today sandwiched between Yo La Tengo and Broken Social Scene. Treading Lightly was also played on July 27th, nice!
(20 June 2012) Holding Me Back was played on Moheak.com radio today.
(24 April 2012) Nice review of Hard Learned Truths in left off the tracks, check it out. I also wanted to thank everyone for buying the album and for the nice comments, much appreciated!
(15 March 2012) I released my new animated video for Songs of Other People on YouTube by UK animator Marie Yussuf.
(13 February 2012) Holding Me Back was played on Mo Herms' The Independent FM radio set, and Hard Learned Truths and Northeast Sound were played on Marshall Stax's The Next Big Thing radio show on KALX. Two radio stations in one day, nice!
(7 February 2012) Freak Folks was played on The Independent FM radio, hope you were listening!
(25 January 2012) Hard Learned Truths was reviewed in the East Bay Express:
"She's actually a careful, methodical artist with a folksinger lilt, and a cache of scrappy rock riffs that bring out — or jar with — the sweet tincture of her voice. It's a fascinating juxtaposition."
---
---